M140ITLBatch Freezer Equipment
Create_time:2019-10-28 Views:2413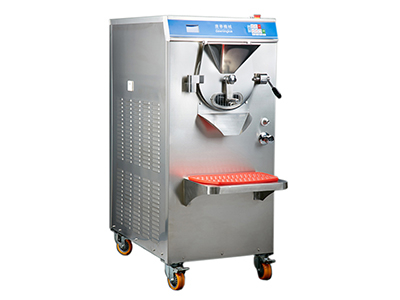 Batch Freezer for Gelato & Gourmet ice cream & Sorbet
SAFE OPERATION:
The system is not going to work when the door is open.
There is one extra Emergent Stop Red Button could stop the machine any time.
Finger protection bar at the extruding hole to protect fingers of operator.
POWERFUL REFRIGERATION CAPACITY:
10 hp refrigeration capacity is one of the most powerful machine in
the global market for similar models. More powerful refrigeration capacity could make smoother ice cream.
DOUBLE SPEED FREEZING:
Low speed freezing for making Italian gelato, and high speed freezing for making high overrun ice cream.
More Product:batch freezer for sale
-------------------------------------------------------------------------------------------------------
BUILD IN RINSING WATER SPIGOT WITH HOSE IN THE MACHINE:
Pull out the rinsing water spigot to rinse the freezing cylinder, to speed up the manufacturing when change flavor.
Digital Control System:
Digital, and programmable control system. Easy operating, accurate freezing time setting and safe operation.
Self-Diagnosing System:
The machine will diagnose the problem by itself and display on the control screen.
  Product parameters:
Model

Mix Tank Capacity

Range

Production/Hour

Process Time

Min

Dimensions

Weight

Refrigeration System

Power Type

Power

(380v)

kw

(Liter)

(Liter)

(Liter)

Width(mm)

Depth(mm)

Height(mm)

Net weight(kg)

Gross weight(kg)

M28ITS

4

1-2.5

20

4-7

408

810

845

140

180

3hp

water or air

380V/3/50Hz

220V/3/60Hz

220V/1/150-60Hz

4

M42ITS

6

1.4-4

35

6-9

480

750

1325

180

230

4hp

water or air

380V/3/50Hz

220V/3/60Hz

220V/1/150-60Hz

5

M48ITS

10.5

3-6

50

8-10

520

860

1365

295

350

6hp

water or air

380V/3/50Hz

220V/3/60Hz

220V/1/150-60Hz

6.6

M72ITS

18

5-14

72

9-13

520

830

1385

315

370

6hp

water or air

380V/3/50Hz

220V/3/60Hz

220V/1/150-60Hz

9

M140ITL

31

10-22

110

10-15

630

1040

1365

370

430

10hp

water

380V/3/50Hz

220V/3/60Hz

220V/1/150-60Hz

12